"It's not nice to fool someone who can incinerate your heart."
Prerequisite: Character Level: 45; Cleric Level: 30
The Shaman is the most heavy-handed class of the Healing and Support branch. Mystical shamans expertly manipulate the elements of nature to rain torrents of damage upon the enemy. Disorient your enemies in a whirlwind of earth, nature and fire spells.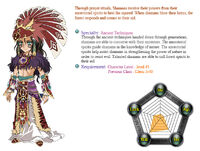 Shaman uses lightning bolts, nature attacks, and totems to alter the course of battle.
Shaman Overview:
| | Characteristic | Race | Effect |
| --- | --- | --- | --- |
| | Staff Bonus | All | When equipped with a staff, Cast SPD +10% |
| | Shield of Nature | Human | Decreases received P-DMG -5% |
| | One with Nature | Zumi | Nature, Fire, & Lightning resistance +10% |
| | Wild Resonance | Anuran | Increases M-CRIT Rate +20% |
| | Cloth Armor Mastery | All | Can wear Cloth Armor |
Shaman: Shamans commune with spirits of the ancients, summoning them to grant their allies with immensely powerful protection charms. A true master of shamans may even be capable of creating an artificial casing to hold the power of these spirits in a physical form, towering over a battlefield and causing immense damage to all who oppose it. [1]
Certificate bonuses are bonuses that you can gain by equipping a certain number of certificates from your main class branch. To see the certificate bonuses that can be gained, check Healing and Support/Certificate Bonuses
Shaman is very similar to a "Druid" type class seen in other MMORPGs.
Shaman and Blade Dancer are the only 3rd tier classes that do not require two classes to become.
Shaman, along with Blade Dancer, have the lowest class and character requirements of the 3rd job classes.
Healing Branch
Classes
Awaken Classes
Skills
Racials
Community content is available under
CC-BY-SA
unless otherwise noted.