Deln is an Ursun warrior, and the bodyguard of Athena Marie.
Dialogue
[
]
Pop-up
[
]
"I'm honored to protect the Magician."
"Travel safely... a new wave of monsters is on its way."
Chatting
[
]
"The magician seems very interested in that meteor shower. She's not usually curious about such things." Deln's friendly smile grew serious.
"I must protect her from all kinds of danger. You seem harmless, but I'm keeping an eye on you anyway. Maybe both eyes."
Deln pointed at his baby blues with two fingers, then aimed them at yours.
Quests
[
]
Trivia
[
]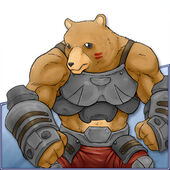 The official art of the Ursun race is of Deln.