"You should know by now that there is nothing more devastating in the world than true beauty."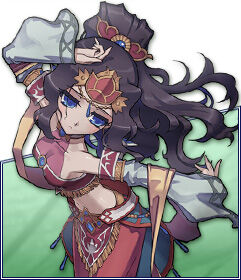 Prerequisites:
Character Level: 50; Bard Level: 35
Beneath the Blade Dancer's glittery, ribboned exterior is an extremely ferocious fighter. You'll need the Blade Dancer in top form to take on Eden's final dungeons and NPCs. Wielding sharpened twin swords, the blade dancer excels at multiple target attacks, swiftly damaging all nearby enemies in a shiny, hypnotic blur. [1]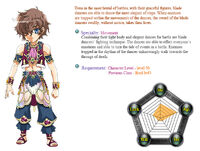 Blade Dancer's skills capture the damaging qualities that the Melee DPS is renowned for, as well as many offensive (and defensive buffs) to help themselves and their allies.
Main Stats: Luck, Strength, Agility
Offensive: P-ATK (Str), Attack Speed (Agi),P-Crit Rate (Luck), P-Crit Damage (str), Accuracy (Luck)
Defensive: Evasion (Agi) (Esgrimer)
Blade Dancer is the third class available in the Melee DPS class branch, who focuses on using one handed swords. Blade Dancer uses a multitude of powerful hypnotizing abilities, swift cuts, and offensive and defensive buffs to aid in defeating enemies.
| | Characteristic | Race | Effect |
| --- | --- | --- | --- |
| | Gymnast | All | Move SPD +5% |
| | Sword Expert | Human | When equipped with a sword, 1 H sword ATK & M-ATK +10% |
| | Temperament | Zumi | When equipped with a 1 H Bladed weapon, 1 H Bladed Weapon ATK SPD +10% |
| | Anuran Dance | Anuran | Increases CRIT Rate +30% |
| | Light Armor Mastery | All | Can wear Light Armor |
Blade Dancer's wear Light Armor. Blade Dancer's focus mainly on 1H weapons.
Blade Dancer, along with Shaman, is the only 3rd class that does not require two classes to unlock.
Blade Dancer, along with Shaman, has the lowest class and character requirements of the 3rd job classes.
Community content is available under
CC-BY-SA
unless otherwise noted.